TripIt is a travel organising app that automatically creates a master itinerary for every trip so you can access all your travel plans, anytime, on any device.
---
How TripIt Makes Travel Easier:
Master Itinerary: Organizes all your travel plans in one place.
Mobile Access: Gives you on-the-go access to your itinerary.
Sharing: Keep family, friends and colleagues in the loop.
Calendar Sync: Keeps your travel plans and calendar in sync.
Auto-Import: Imports travel plans for you – no forwarding required.
Traveller Profile: Stores essential travel documents and contacts in one spot.
TripIt Pro is a premium service that includes all the benefits of TripIt plus a suite of additional features geared to the frequent traveller and is like giving your employees a personal travel assistant.
---
How does TripIt work?
Automatically. Once you receive your itinerary from Spencer Travel, simply forward the email to plans@tripit.com.
Within minutes you will receive a loading confirmation email and your itinerary will appear in your TripIt account.
If you use Gmail, Outlook.com or Yahoo Mail, TripIt can import your travel-related confirmation emails automatically — no forwarding required.
CLICK HERE for details.
TripIt uses the details in your confirmation email to create a comprehensive, master itinerary for every trip that you can access anytime, on any device.
TripIt also makes it easy to selectively share your whole itinerary or just specific travel plans with friends, family, or colleagues, saving you from copying and pasting all the details of when you arrive or where you're staying.
---
How much does TripIt cost?
TripIt is completely free.
TripIt Pro offers even more features such as flight alerts, seat tracking and more for US$49 per year.
This can be paid on the website or via in-app purchase.
---
What is TripIt Pro?
TripIt Pro gives you the ease of TripIt, plus real-time alerts, a better seat, flight refund notifications, reward points tracking, VIP benefits, and more.
While TripIt creates master itineraries for free, TripIt Pro is a subscription to additional features that help travellers stay one step ahead with real-time flight alerts, gate change notifications, reward program tracking, monitoring for availability of preferred seats, and VIP benefits.
Use the chart below to compare the features of TripIt and TripIt Pro side-by-side.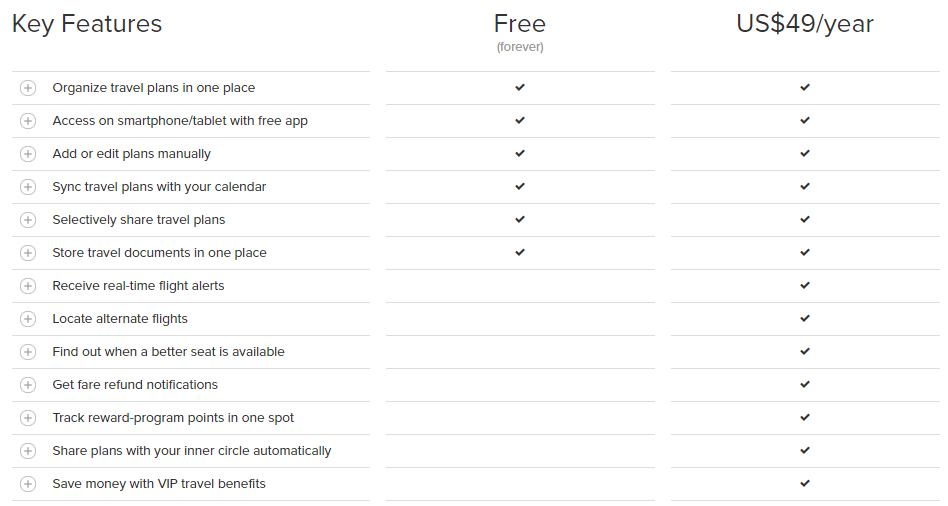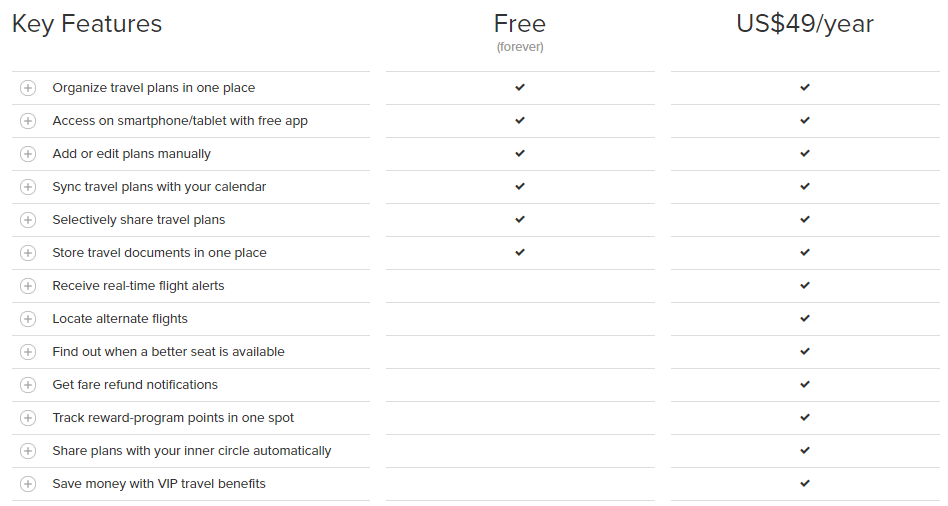 ---
How do I get started with TripIt?
Create an account via the TripIt website or via the mobile app.
---
How are my trips loaded into TripIt?
Once your account is created, you can import your trips by forwarding your confirmation email from Spencer Travel to plans@tripit.com from the email address associated with your account.
Or, if you use Gmail, Yahoo, or Outlook.com email, you can set up auto-import. This means TripIt automatically imports the travel plans from your inbox to your itinerary. No forwarding required.
CLICK HERE to set up the auto-import function.
Once your trip is created you can edit your itinerary, add maps, directions, weather, meetings, activities, notes, photos, and more.
---
How do I sync my TripIt itineraries with my calendar?
Sync your trip plans with your calendar of choice. Many different applications support iCal, including Apple iCal (iPhone and iPad), Google Calendar (Android and Gmail), Microsoft Outlook, Sunrise Calendar, and more.
CLICK HERE to set up the calendar feed setup and sync.
---
What happens if I make a change to my travel plans?
Is the change automatically reflected in the TripIt account?
Itinerary changes and cancellations are not automatically updated in TripIt.
If the auto-import function is enabled nothing needs to be done as TripIt will scan your primary inbox multiple times a day for travel plans, then automatically import them into TripIt.
Otherwise, travelers just need to forward their latest TMC confirmation emails from their email inbox to plans@tripit.com in order for updates to be reflected in TripIt.
---
I am a travel booker, can I forward the email confirmation to plans@tripit.com?
Email confirmations forwarded to plans@tripit.com will automatically add emailed plans to the email sender's account, the Travel Booker can add their email address to the traveller's account (instructions here) and the itinerary will appear in their account.
---
I book travel for several people, will the trip information be applied to the correct traveller?
For Travel Bookers who arrange for multiple travellers, the Travel Booker would need a TripIt account and send the itinerary from their email address to plans@tripit.com. Once this trip is loaded into their account, the Travel Booker 'shares' the trip with the traveller.
This invitation is sent via an email to the traveller.
CLICK HERE for instructions.
Conversely, if the traveller forwards the original itinerary email from Spencer Travel from their inbox, they can then share with their booker/EA, enabling the trip to be viewed in either profiles.
However, if the traveller only requires the trip in their own profile the quickest and easiest method is to set up auto-import or forward from their own email address.
Remember: If the traveller is a TripIt Pro subscriber, they can also add the travel booker to their inner circle to automatically share all of their trips. This can be done in reverse, if the Travel Booker is a TripIt Pro subscriber, they could set the traveller up to automatically receive the bookings.
---
Where do I go for TripIt or TripIt Pro support?
Whilst we will always offer as much support as much as we can for TripIt, please note it isn't owned or managed by Spencer Travel.
It's a product we recommend to our clients to use as a mobile app.
Contact Spencer Travel — 02 9281 5477 — or contact TripIt directly.
TripIt provides assistance in two ways: