Recently the Spencer Travel team travelled to Brisbane to familiarise themselves further with the Brisbane hotel scene.  Here's what Louise Brown, Operations Manager at Spencer Travel thought of the properties they visited:  
Ovolo Inchcolm
"I was very impressed with this hotel. It's a luxury boutique hotel on Wickham Terrace in the CBD. When you walk in, there is a beautiful bar on the left which is also where you check in" says Louise.
The Spencer Team team stayed in the loft rooms, very spacious two-level suites. The lounge area is on the ground floor, with the bedroom and bathroom situated on the first floor.    
"Ovolo is one of those hotel chains that do quirky really well and they also do the free mini-bar thing very well. Everyone gets a loot bag (mine had chips, chocolate and lollies) and then the mini bar has soft drinks, red and white wine. All free and restocked daily. They have a happy hour which is complimentary depending on the rate you are paying. They serve canapes, wine, beer and cocktails for free – very cool!", add Louise  
Salon de co, the hotel's restaurant, is a small cosy space at the back of the hotel. The team loved the food and the service was outstanding.
Overall Louise was very impressed with the Ovolo concept and would highly recommend this property. 
Next Brisbane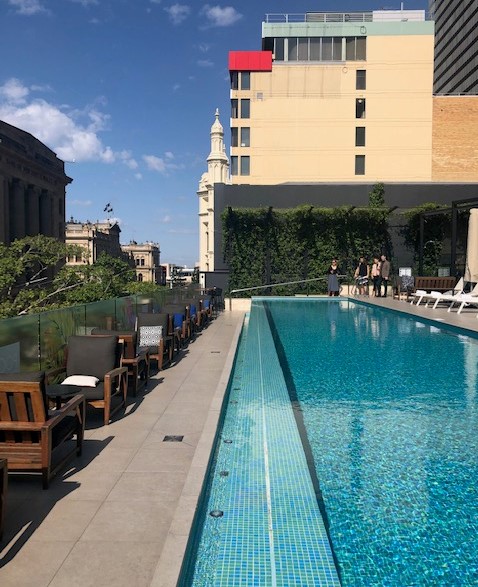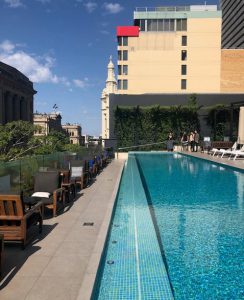 Next Brisbane is located on Queen Street Mall. Burnett Lane – a laneway with cool bars and speakeasys – is right behind the hotel.
"The Standard Queen and a King Deluxe rooms are well appointed, but some look at little tired. The Deluxe King's can be split into two twins and some can interconnect", says Louise
In every room there is a Samsung smartphone that controls all appliances in the room. Guests can also take the phone with them and use the WIFI or make local calls. All rooms are equipped with Smart TVs so guests can watch their own Netflix. All rooms have safes with inbuilt power so guests can charge their laptops or tablets when the safe is locked.
"You get 4 free mini-bar items in your room each day – you can choose what you want. Next has a large business class lounge with a well-stocked honesty bar and pantry," she adds. 
The hotel has a so-called Intransit Lounge – this is for early arrivals or late departures. There are 4 sleep pods available and full shower and bathroom facilities. There are also Tesla charging stations available and guests can use one of their Tesla's as a house car (paid service).
Louise's verdict: "The hotel is a good 4.5 star option for both corporate and leisure."
W Brisbane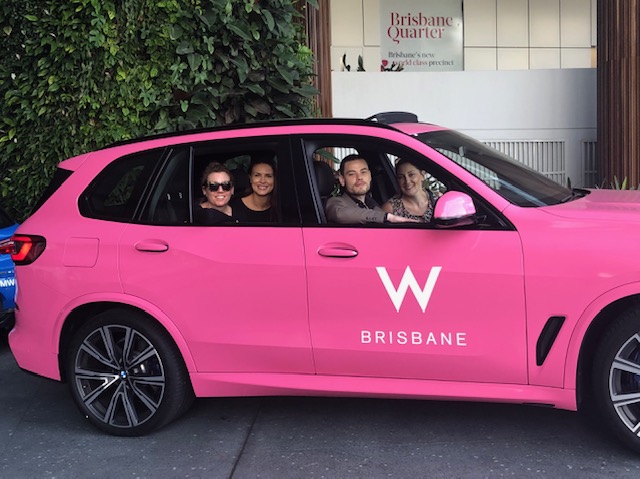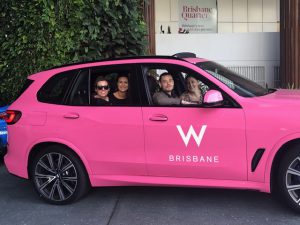 W Brisbane is located in the city along the Brisbane River.  
"The W is very W. Cool and trendy vibe with lots of interested pieces of art dotted around the property. All rooms have river views. We saw a variety of rooms including the Ewow Suite which is so spacious and comes with an actual bar – they use this a lot of events and celebs as it can interconnect to a smaller suite", comments Louise.
The hotel has a beautiful spa and two magnesium pools. There is a wet deck which is currently the only one in Australia. In November a new outdoor BBQ and garden area will be opened next to the wet deck.
"The W is a really cool hotel and I definitely recommend this to any business traveller", reports Louise.
Westin Brisbane
Westin Brisbane is located right beside Four Points, which makes these properties a good option for groups or corporates where there is a need to service different budgets.
Westin's Renewal Suite is spacious and has a balcony. Bookings for this room type include access to the Executive Lounge. If you book a room without club access, it's a surcharge of $100 per person to add this on.
"The best part about the Westin is their amazing pool area. It feels very resorty and has a swim up bar", says Louises
Emporium Southbank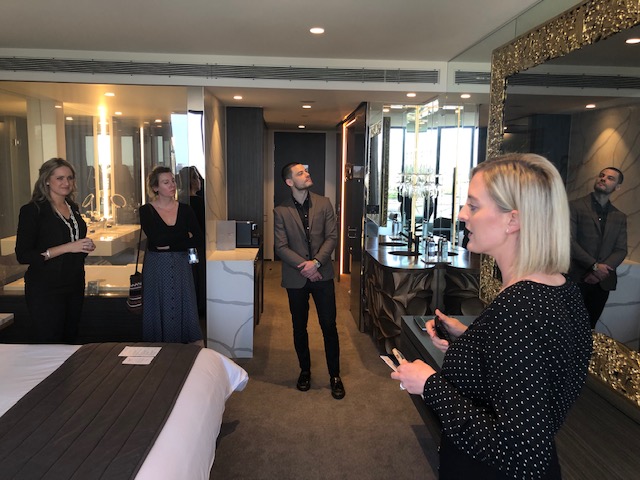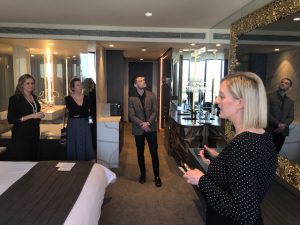 Located on the river at Southbank, the Emporium is a beautiful 5 star boutique hotel, suited to high end leisure and corporates too.
"I love this hotel" quips Louise.

"The River City King rooms are gorgeous and have balconettes. There are two types of Premier Suites: Exquisite and Emporium Suites. The difference is that the Exquisite has a makeup table in the wardrobe and the Emporium is a little larger. Both have terraces," she adds.
The hotel has an infinity pool with poolside cabanas.
The team had lunch at The Terrace which is a huge rooftop bar with views over the river and CBD. Great food and a beautiful spot to eat and drink.
The hotel also features a fine dining restaurant called Signature and a French patisserie.
"You can tell there has been no expense spared by the owners when designing this hotel, it's very beautiful", says Louise.
The Calile
The hotel is on James Street in Fortitude Valley – a fantastic location for shopping and socialising.
"I was very curious about this hotel as I'd heard so much about it. It didn't disappoint at all – I loved it!", says Louise

"It's an urban resort inspired by Palm Springs. It definitely has that oasis feel to it. The hallways are all open, so it feels so breezing and tropical. The rooms have different colour schemes such as dusty pink, pale green – the floors are all made of cork and the marble bathrooms are stunning", she adds.
There are live plants and daybeds in all rooms and suites with some overlooking the pool. The pool is huge with cabanas down one side (no need to book) and pool lounges on the other side. Next to the pool is Hellenika restaurant which serves Greek food at lunch and dinner.
"A truly gorgeous property; I'd love to go back and stay to experience it properly", according Louise.