LAS VEGAS (August 13, 2019) – Global luxury travel network Virtuoso® has announced that Spencer Travel has won this year's coveted Most Engaged Air/Services Member Agency Award at the 31st annual Virtuoso Travel Week.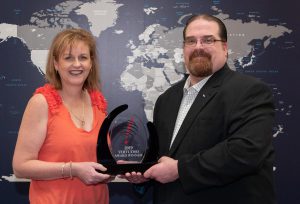 Spencer Travel's Danielle Reilly, collected the award in Las Vegas. The honour is especially significant as only a small fraction of the network's 20,000 advisors and 1,000-plus travel agency members are recognized at Virtuoso Travel Week. 
"Spencer Travel's remarkable accomplishments, including constant innovation, exceptional knowledge and stellar service, have helped set Virtuoso apart and bolster our collective reputation," said David Kolner, senior vice president, Global Member Partnerships at Virtuoso.
"This network is always working to ensure the client experience is elevated to the next level, and Virtuoso such as Spencer Travel deserve credit for their efforts in ensuring this happens while also helping propel us and the entire luxury travel industry forward", added Kolner.
Spencer Travel's Managing Director Penny Spencer says: "We are so excited to have won this inaugural award. Tina, our General Manager, has been working hard with our team to ensure we utilise every aspect of Virtuoso including Air and Services. Receiving global recognition is truly an honour, and we are thrilled to be named alongside such brilliant Virtuoso award winners."